Electric Stoves
I don't claim to be an expert at buying larger appliances like stoves, dishwashers or refrigerators. But I do know a thing or two about cleaning and care. A lot of people don't know the the cons of owning a glass stovetop or not to use the self-cleaning function on their ovens. I do know how to take care and not ruin your expensive appliances, and also how to not ruin your food in utilizing them!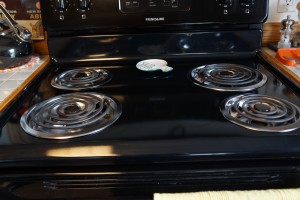 First I should probably start off by explaining the differences between a regular electric stove, a glass/ceramic top stove, and induction top.
Glass/ceramic are the same thing. Ceramic turns to glass when fired, so that's why you hear these names used interchangeably. These stoves are beautiful, and I recommend them – if you don't ever plan to cook on it. 😉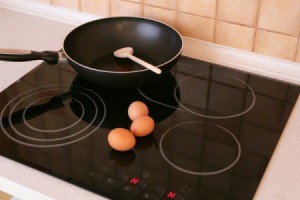 Why? They take forever to heat up. I had a customer come in and complain to me about his new copper-core cookware not heating up as fast as he was told it should. A co-worker of mine was dealing with the man and I happened to overhear his complaints. Yes, copper cookware should heat up relatively faster than normal aluminum-core cookware. So I stepped in and asked if he had a glass stovetop and he said that he did. "Did your other cookware take a long time to heat up, also?" Turns out that, of course, it did. So I explained to him it was his stove and not the cookware, because at the time I was actually renting a home with a glass stovetop and had a mix of aluminum and copper-core cookware, including the brand he was complaining about, and had the same problem.
Glass-top stoves also require non-scratch sponges to clean them, and can be quite difficult to clean unless you feel safe using a razor-blade on it. My grandfather owns one and refuses to crack eggs in the pan on the stove – he takes the pan off of his stove after it's warmed up and cracks the eggs away from the stove because he says he always ends up dripping a little on the stove and has a heck of a time getting it off later when it's burned on.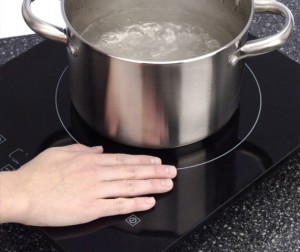 Induction stoves are not the same thing as glass-top. They are actually great if you can afford one! However, you do have to have relatively specific cookware in order to be able to utilize them because they work by magnetic induction. This means your cookware has to have a magnetic base in order to work on it. You will sometimes see people looking at cookware with a magnet in their hand and this is why. It only has to be magnetic on the bottom. The stovetop can actually be on 'hot' and you can pull the pan off and touch the burner and you will feel absolutely nothing!!! So you cannot use cast-iron cookware on an induction stovetop because cast iron does not have magnetic qualities. A lot of cheaper nonstick cookware will also not work on induction. Copper-core cookware actually works with induction the best – Chantal actually made their copper line specifically to work with induction.
Use and Care
Alright, so there you have it on those 'other' options for electric. Of course we are all familiar with basic old electric stoves (unless you're lucky enough to have had gas your whole life, which I have not, so I will not even pretend to give advice there, and am also thoroughly jealous of you!)
One thing you really need to know when cooking on an electric stovetop is that all cookware manufacturers heartily agree that stove manufacturers make them TOO HOT! So, you should never, ever turn any of your dials all the way up to the 'High' setting. You should be able to successfully sear meat on a 'Medium-high' setting. I know a lot of you are probably impatient like me and just like to jack it all the way up to get things moving, but you should really just set it at the temperature the recipe calls for (unless it says 'high' because of course you are now going to always read that as 'medium-high', correct???) and wait and let it come to that temperature that way.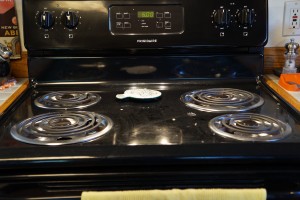 I take the burner plates off of the stovetop about once a month (or more if I make a huge mess!) and scrub them down really well. A lot of people don't actually know that most stovetops lift up so you can clean under them. I wipe that all down and leave it open to dry for a little bit before assembling it again. This is where getting a name-brand stove comes in handy – easy to find burner plates to replace if you ever need to. You can actually find the plates at the Dollar Tree, of all places, but it's not ever going to be guaranteed that they will be the exact right fit unless you get lucky or get them from the vendor. I believe Target and other stores of that nature also carry burner plates. These are both reasons why I had to purchase a new stove when I bought my home – the replacement burner plates did NOT fit it, and the top didn't open up to clean underneath it. And clearly the previous owners didn't understand the concept of cleaning a stove. I got it clean, but I couldn't deal with my pans wobbling all over because the burner plates didn't fit.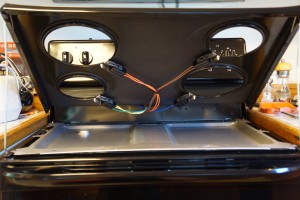 Now with the oven, what temperature you can go to will always depend on what type of cookware you are using. Most ceramic cannot go much over 400 unless you have something stronger that is high-fired, like Le Creuset or Emile Henry. Read your instructions! Anything over 500 or broil should be done in metal bakeware. I also strongly recommend investing a few dollars in an oven thermometer. A lot of ovens either don't start out at the correct temperature to begin with or will at least change temperature over time. I remember with my mom's old stove we had to always set it about 25 degrees lower than recipes called for because it got so much warmer over the many years she owned it.
As for the self-clean function – DON'T USE IT! Ever. Seriously!! When I bought my new stove two years ago the salesperson reconfirmed this notion with me. The self-clean function gets far too hot, and it will eventually burn out the electronics up above. This is the most common cause of broken stoves, people, so take heed! There are plenty of other ways to do it, and quite honestly, before I knew this, whenever I did have the opportunity to have an oven with this feature, I found myself doing the Easy-Off method first anyway because self-clean just bakes everything on harder. There is also the age-old trick of leaving a bowl of vinegar in the oven overnight to help loosen everything off. And I highly recommend getting an oven liner so that you really don't ever need to mess with it. They are usually about $20 which seems high for something so small, but it's worth the investment, trust me! You can easily wash them off in your sink with hot, soapy water and put them back into the oven.
Gas Stoves
OK, I only know that I dream about one day owning one and learning all the tips and tricks to share!! 😉