Actually this is my second pressure cooker. The first one I ordered sat in the box until I finally sent it back – I was too scared to use it! The second one, the Cuisinart CPC-600, was a gift for Christmas. Couldn't send that one back! So I read the directions that came with it. And read them again. Then read a ton of recipes. Then the directions again! And found a step-by-step video made by Cuisinart showing the pressure cooker being used. A friend said she would walk me through the first time cooking, and we picked a recipe to cook together. (On the phone, two states away!) She has been using her pressure cooker for over a year and has experimented with it a lot! It was Vikki's idea to have us guest blog as the Rookie and the Pro 🙂


So here are all of my ingredients. I was so nervous!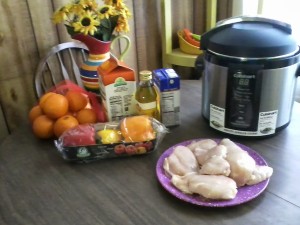 Cuisinart CPC-600

The only picture I didn't take was one of myself sitting on a stool on the other side of the kitchen after I started the pressure cooker! I was talking to my friend on the phone and I thought she would laugh herself silly. We chose a recipe from Comfortable Under Pressure by Meredith Laurence – aka The Blue Jean Chef. (If you have her cookbook, the recipe is on page 62.) I think having a good step-by-step recipe to follow really helped. Meredith's book is the only one I have read so far because it came so highly recommended by my friend.
I have wanted a pressure cooker for a very long time. It has been getting to the point that I don't want to cook after work, so the idea of being able to put a meal on the table so quickly was very appealing. All of the cooking shows I watch (and yes, the shopping channels!) make it look so easy to use a pressure cooker. And the food looks so good and the meat looks so tender! I went back and forth forever trying to decide yes or no and if yes, which one did I want. I would send Vikki links, etc. – what do you think of this one or that one. Never did make up my mind so Vikki and her brother did it for me! (Yes, the gifted pressure cooker was from them!)
My prep work doesn't normally look this pretty,
but I knew I would be taking pictures 🙂

So. It was way, way easier than I thought it was going to be. It actually took me longer to prep the food than it did to cook it! One thing I did learn was patience. When it says in the directions that time varies for the cooker to reach pressure, it means it can vary! I thought I had done something wrong because it was making a noise but it wasn't starting. I knew the lid was secure as I had checked at least three times. But the timer sat at 8 minutes and was not moving. On the phone my friend kept saying, "Just wait! Give it time, it has to reach that high temp".  And of course she was laughing at me! I am sure all you other pros are laughing, too.  🙂

Vikki can tell you all the technical stuff about pressure cookers. For me, most pressure cookers I have looked at all look the same and do pretty much the same things. Some just pressure cook. Some also brown and sauté as well. In my opinion, if you are going to invest in a machine, the more things it can do the better! (One setting that mine does not have is a medium temperature setting – only high and low.)
The browning and sauté settings serve two purposes. Beside the obvious, it starts raising the temperature of the machine. That lessens the time it takes to reach pressure once you go from browning mode to pressure mode. After the meat was browned, it was removed from the pot. The other ingredients were added, the chicken placed back in. Sealed the lid properly, pushed the buttons for temp and time, then walked away! It really was that simple. And not scary at all 🙂                          
Everything is in the pot ready to go!

One thing I would highly recommend is a good cook book. Check a few out from the library before you decide which type works best for you. A beginner-type book with simple step-by-step instructions and pictures is what I needed! Some recipes will include the time for the machine reaching pressure along with the cooking time.
Get comfortable with the pressure cooker by using easy recipes to start with. Or don't even start with a recipe – boil water, make rice, steam a vegetable. And play with it – take it apart, see which part goes where, practice putting the lid on and locking it. The instruction booklet that came with mine is fantastic! As well as very clear, concise directions, it also had a lot of recipes and charts of cooking times for meats, vegetables, etc.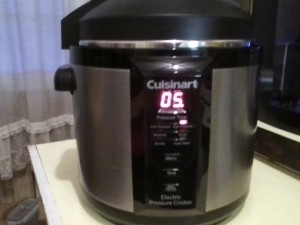 Watching the countdown from across the kitchen.

The Cuisinart is a highly recommended brand of pressure cooker. Replacement parts are easy to come by and it has been around for a long time. It is so very safe to use! You can not push any of the buttons to pressure cook unless the lid is secure. With all the stories of pressure cooker disasters, that was a very important aspect for me. And clean up is a breeze! The pot lifts right out (not heavy) and washes right up (non-stick). It is dishwasher safe, too, but even if I had a dishwasher I would baby it and hand wash it only. The sealing gasket is also removable for cleaning and when you need to replace it, as well.

And YOU were sooooo scared ……… LOL 🙂

 And Voila – the finished dish!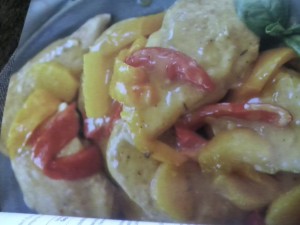 Boneless, skinless chicken breasts with oranges and peppers.
Cook time on high pressure: 8 minutes!
Next project: using the pressure cooker as a slow cooker! I just found a really simple recipe for corned beef and cabbage I might try!

Thank you, Vikki, for my pressure cooker (and Nick)! And thank you for inviting me to guest blog – although I can't imagine who wants to read what I have to say LOL 🙂 It is going to be fun finding new ways to use my cooker and new things to cook! Let the adventure begin!

The Rookie aka Sue aka Vikki's Mom