Immersion (Stick/Hand) Blenders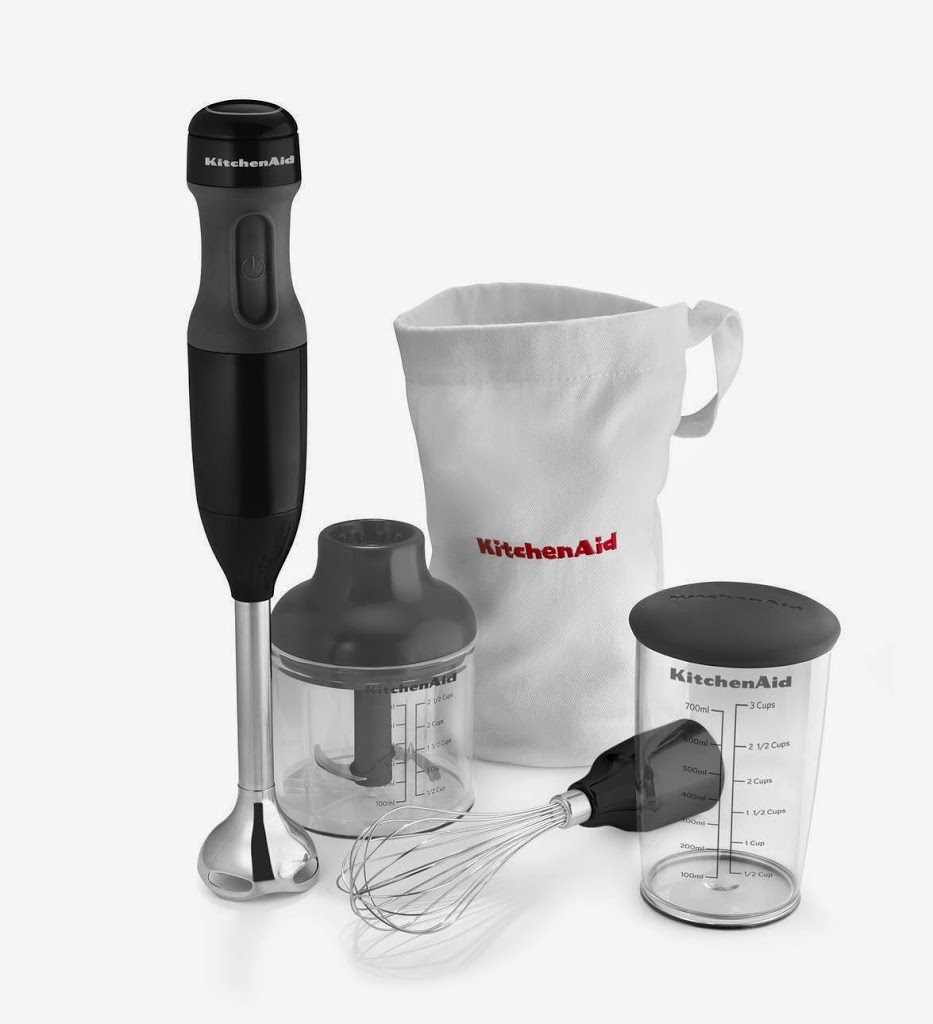 Kitchen Aid immersion blender and accessories
Immersion blenders are pretty handy little tools, great for someone who makes simple smoothies and soups. An immersion blender cannot crush ice at all, believe me, I tried it. 😉 Doesn't even really chip at it. As long as you remember to submerge the base blending piece before turning it on, it should not splash at all.
Immersion =
immerse
. Make sure the parts are completely covered in liquid and you're all set!
I personally don't believe you need speeds on an immersion blender. It's either going to blend or it isn't, going faster or slower isn't changing anything.
Kitchen Aid
seems to have realized this and toned it down a little. They originally had a 9-speed, but now offer a variety of new models with less speeds: 5, 3, or 2. No singles.
Kitchen Aid is big on accessories, as well. Usually a wire whisk (which I got lots of complaints about them breaking and/or not working very well), and a mini chopper. The mini chopper is handy if you don't already have one.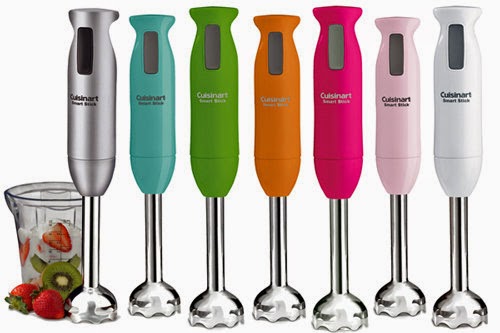 Cuisinart Smart Stick immersion blenders
My favorite recommendation is the
Cuisinart Smart Stick
. You should be able to find it for under $30 (a lot of times for $26 so shop around!) and it comes with their 3-year warranty. That's nuts for under $30!! I've had one for at least four years, and I don't use it daily, but I use it for smoothies, milkshakes, and especially in soups. It's great not having to dump your soup in a blender and then back into the pot.
Blenders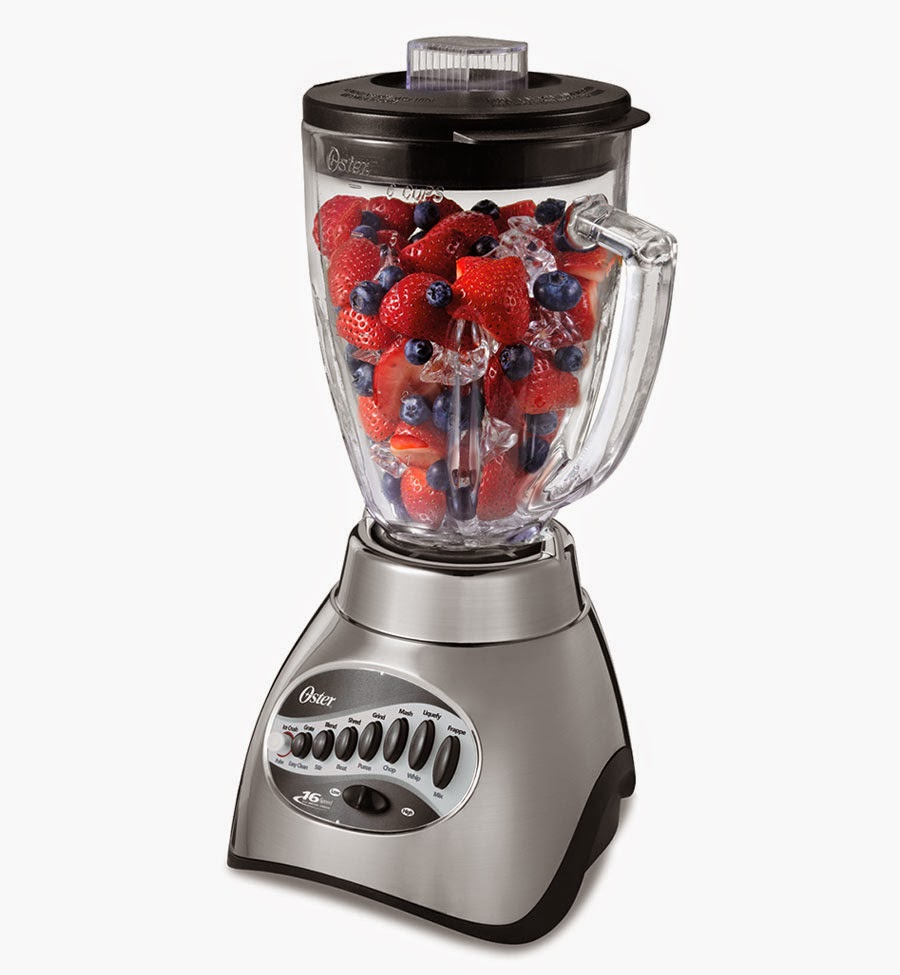 Oster blender
Blenders can be a tricky subject. People buy them and abuse the heck out of them, so you get a lot of mixed reviews and it's hard to say what's the best blender for the individual. If you aren't looking to invest a lot of money, the Oster blender is pretty standard and a lot of people have them (and sometimes refer to them as the "Osterizer"). Of course there are also the usual brand name competitors like Proctor Silex and Hamilton Beach.
If you are looking for something with a little more power and you're wanting to invest a little bit more, you're probably looking at the following brands.
Blender FYI: 48 ounces used to be standard size, but a lot of brands now have 56 ounce carafes.
Waring Pro
– a lot of people had these for over a decade with no issues, but they did start outsourcing them and I was noticing a few more issues here and there, but no mass returns or anything like that. A solid brand name that makes commercial-style items for the residential home, a lot of people prefer the simplicity of two-speeds and love that it's a glass carafe and has that classic blender look.
Waring Pro blenders
Cuisinart
– If you're looking for a glass blender with more options, the variety of blenders Cuisinart offers might be for you. It's got a lot of speed settings and an unusually large carafe for being glass on their PowerEdge series of blenders. Of course Cuisinart offers its 3-year warranty which is great for a blender.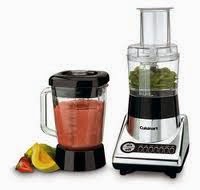 Cuisinart PowerBlend Duet
Blender/Food Processor
Cuisinart also makes a food processor/blender 2-in-1. I am always leery of anything that is a 2-in-1 as it calls to mind those TVs that had the VHS player embedded in them, and the VHS player ALWAYS broke. I love Cuisinart, and I'm sure this is a solid machine, but I wouldn't put my trust in the performance of either being as high caliber as a stand-alone. Personal opinion, only, of course!! 😛 Also, the food processor is only 3 cups so it can't really do much beyond slicing and shredding. However, the tiny food choppers you can purchase (they are not processors, although a lot of people call them that) are usually 3 cups, too, so this 2-in-1 is actually a processor because it shreds and slices, as well as chop.
The carafes on the following brands are all made from BPA-free polycarbonate (not just plastic!), and that's also what airplane windows are made out of, so you know these babies are tough! If the blender you're looking at doesn't specifically say "BPA free"  or "polycarbonate" you might want to figure out what kind of plastic they are using and consider either a glass carafe or one of these brands!
Kitchen Aid
– The Kitchen Aid Diamond Blender boasts the same blade as their previous blender model, which they have always claimed is the sharpest and strongest on the market. I know they have a patent on it, and the blade is mentioned in a comparison video I link to below. The new carafe has a unique diamond-shape that helps to create the more powerful blending vortex. They are consistently rated the best ice chopping blender on the market, and I would strongly recommend either this new model or the one before it as being superb quality for purchasing.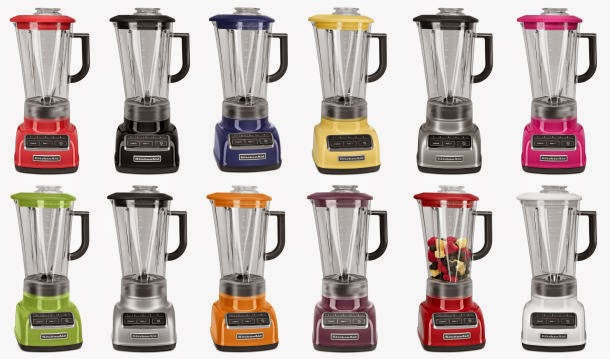 Kitchen Aid Diamond Blender
Ninja – Ninja blenders are newer to the game than its competitors, but people seem to love them! They have quite a few models, from small food choppers to machines that rival the Vitamix. I know a lot of people who have different ones and all of them seem to love them and I've never really heard a complaint, but I have no personal experience with them. A video below shows a side-by-side comparison against the new Kitchen Aid blender and I am not convinced of the Ninja's superiority! However, if you're looking for a small food processor as well as a blender, some of their models are basically like the Cuisinart PowerDuet mentioned above, and Ninja's seem to be pretty powerful food processors.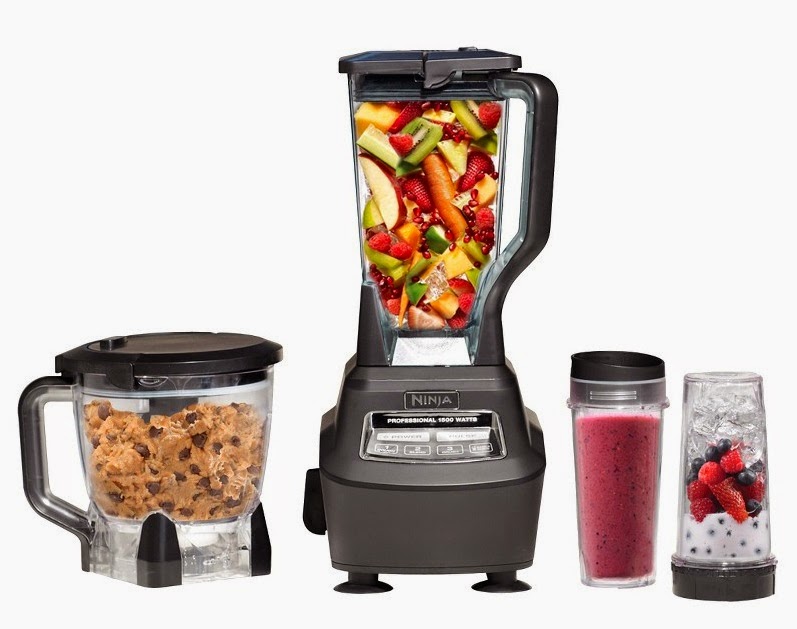 Ninja 1500 Mega Kitchen System
blendtec
– This brand is highly regarded in the juicing world as being the best blender on the market for making smoothies. However, after watching a performance test video I have linked below, I am not sure I am convinced this is worth all the money! I don't have any experience with this brand, so don't take my word for it.
blendtec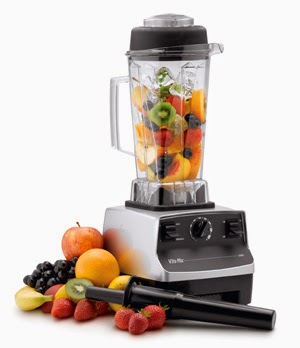 Vitamix 5200
Vitamix – OK, so this is supposed to be the Cadillac of blenders, right? There are, however, a lot of models, and most reviews, etc. refer to the 5200 model. I'm not sure why this is the go-to model to review, but unfortunately, as with the other blenders, everyone has had a different experience. This is part of their C-Series blenders, which are their strongest motors, which also means they are very loud. Also, depending on which model you're specifically looking at, the carafes might not fit under your kitchen cabinets.
This
comparison chart
on their website will help you to determine what "series" of their blenders you should at least start with, based on your preferences. The G-Series addresses some issues with the C-Series, still with the most powerful motors, but adding a sound dampening technology to make your blending experience a little quieter. They are low-profile machines, too, meaning they should fit under cabinets on countertops in most homes.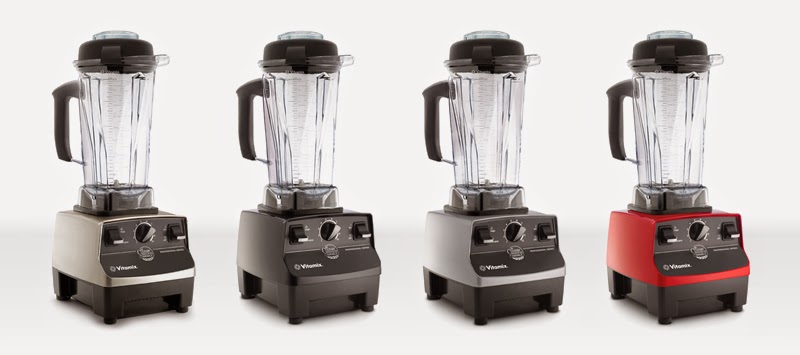 CIA Vitamix Professional Series
The only Vitamix I am certain doesn't require using different carafes for wet or dry, and is backed by the Culinary Institute of America, is the Vitamix CIA Professional Series. The CIA is the only culinary school that can dub someone a "master chef" and so having their endorsement on something is a HUGE deal. These are the ones I used to sell, the only ones our company carried, because they have proven to never fail and work beautifully every time. So if you're going to spend that kind of money, spend a little more and get the best of the best! The CIA Vitamix is part of the noisier C-Series, so I'm sure the new Professional Series models in the G-Series lineup works just as well but more quietly, it just doesn't have that CIA endorsement.
Final Thoughts
OK, so I actually started putting together this blender post because I am finally getting serious about buying myself a blender. Knowing all I knew already, there are new machines on the market, and like I said, a LOT of people seem to be buying Ninjas right now, so I wasn't sure I was still making the right choice for myself, as I had always drooled over the old Kitchen Aid model [in green apple! ;)]. And I haven't sold blenders since Kitchen Aid came out with their new diamond model, so I had to check out the specs on that, of course! [And now I have to pick a new color because I don't like the green apple as much on the new look! (First-world problems!)] Check out these test videos I found online: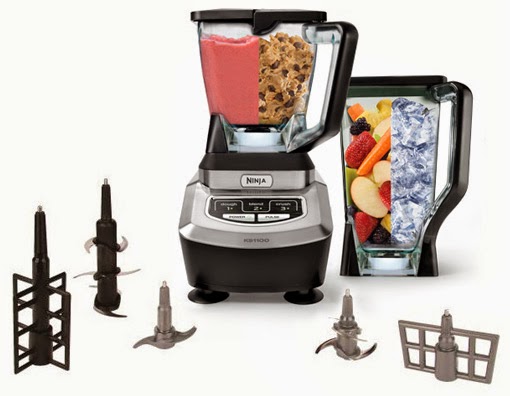 Ninja 1100 Kitchen System
Ninja vs. KitchenAid video – This video show the NEW Kitchen Aid and proves how fast it works compared to the Ninja Professional NJ600. She chose that Ninja because it's the same price range as the Kitchen Aid. The gal casually mentions the blendtec like "of course" everyone who juices knows how amazing that one already is. However, the video below paints an extremely different story about the blendtec, and it honestly looks like the worst model.
5 Blender Show-Down by Popular Mechanics – This is by Popular Mechanics, so I trust the source quite a bit. She's using the old Kitchen Aid model, so I am over here picturing the new one doing an even better job!! And I'm sad about the Vitamix and wish she had used the CIA model since I have heard so many mixed reviews about the 5200 model. I have personally used the CIA model and it destroyed everything we put in it, however I obviously didn't do this exact test.
However, the results of that side-by-side test really push me towards what I thought was the best choice for me all along, which is the Kitchen Aid. I'm not planning on making my own flours, sugars, nut butters, etc. I just want a strong, sturdy blender that will crush ALL the ice. If I did want to do all that other stuff, I might look a little more into the different Ninja models and see how they test out, but ultimately the CIA Vitamix would be my choice if I wanted to lay down a lot of money for a machine that can do a lot. They also offer a 30-day trail period so if you're unhappy with your purchase, you can return it without a hassle, which is great since it's such a big monetary investment.
*Also remember that if you are wanting to juice and extract more nutrients out of your produce, particularly using wheat grass or other leafy greens, make sure to compare notes about
juicers
. The
Omega Nutrition Center
can make nut butters and can end up being the right choice for a lot of folks who thought they only needed a blender!