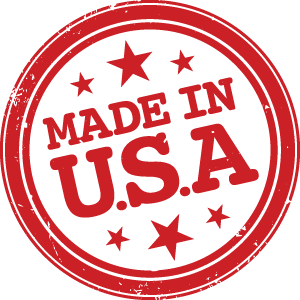 Everyone wants to support local business as much as possible, and we all know how hard it is nowadays to find something actually made in our country, not just assembled here. A lot of brands will make a few items here and the rest in other countries, so it's hard to keep track. While this list should be complete, please do let me know if you know any dirty little trickery that one of these brands might be trying to pull over on us consumers! Of course the best course of action is looking at the box, but even then it might not tell the whole story.
MADE IN THE USA!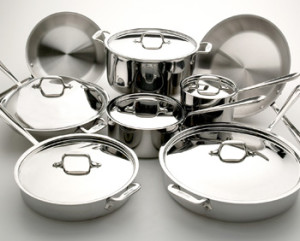 All-Clad** – Canonsburg, PA – The majority of All-Clad pots and pans are made in the USA. However, the lids and accessory pieces are manufactured in China. Accessory pieces include utensils, certain specialty pieces, and any of the stockpots over 16 quarts in size (because you can't clad anything larger than a 16 quart!!). Generally these pieces come in black boxes, but not always. (Normally the boxes are white.)
*Appliances from All-Clad are made in China!!
Anchor Hocking – Lancaster, OH – Very sturdy glassware, glass bakeware, candle holders, serveware, canisters, etc. Since 1905; second-largest glass supplier in the US.
*Prior to 2008 some of the plastic lids were not manufactured in the USA, but now they all are.
Calphalon** – Toledo, OH – The bulk of Calphalon's products are still made in the USA, but it's very hard to decipher on their website. A request sent in to Calphalon let me know that their aluminum products are still made in the USA. This includes their Williams Sonoma, Target & Walmart hard-anodized products; Unison, Elite, Simply Calphalon, Kitchen Essentials, and Cooking with Calphalon.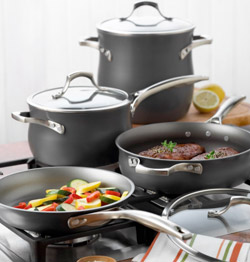 Enclume – Port Hadlock, WA – French metal-forming equipment yields beautiful metal pot racks, kitchen furniture/accessories, and fireplace/hearth accessories.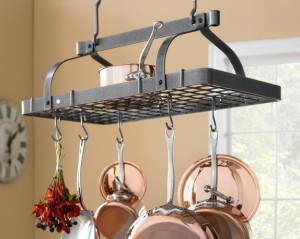 Epicurean – Duluth, MN – Eco-friendly compressed wood cutting boards eliminate the care associated with wood surfaces. Dishwasher-safe and no oil required!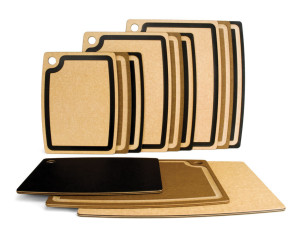 Fat Daddio's – Spokane, WA – "Safe-Seal" anodized aluminum bakeware, which also happens to be one of the most highly rated brands, particularly among professionals.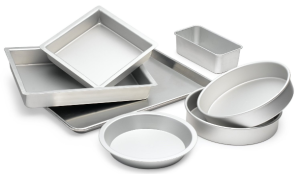 Fiesta Dinnerware – Newell, WV – High-fired, sturdy dinnerware and bakeware since 1936. Lead-free since 1986.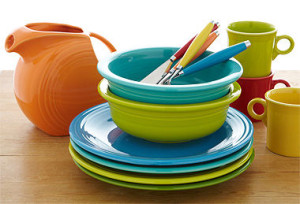 J.K. Adams – Dorset, VT – Quality wooden cutting boards, spice racks, wine racks, rolling pins and other entertaining products.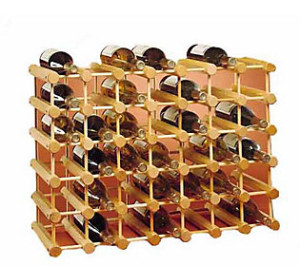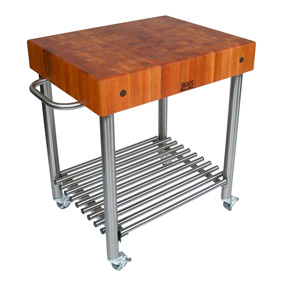 John Boos – Effingham, IL – Beautiful, thick wood cutting boards that are preferred by most professionals and found in many commercial kitchens, as well as wood and metal work carts, countertops/surfaces, shelves/racks and other kitchen furniture. High standards of sustainability in their foresting practices, as well.
Lodge – South Pittsburg, TN – Cast iron cookware since 1896.
*Enameled cast iron from Lodge uses enamel made in China. (Le Creuset & Staub, two French lines of enameled cast iron, use French-made enamel.)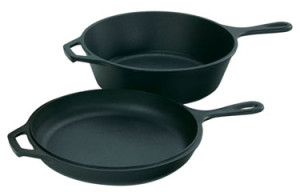 Nordic Ware – Minneapolis, MN – Creator of the Bundt pan, and along with now offering many new Bundt shapes, they produce other bakeware, cookware, microwave cookware, and grill products. Highly sustainable; BPA-free, melamine-free, and nonstick coatings are water-based.
Pyrex – Charleroi, PA – The original strong glass bakeware and kitchen accessories.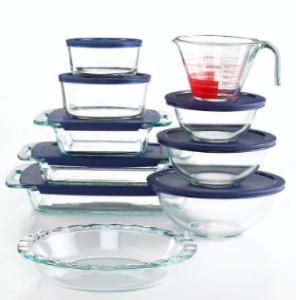 Rogar – Petersburg, VA – Quality metal pot racks, wine racks, spice racks, and wine openers.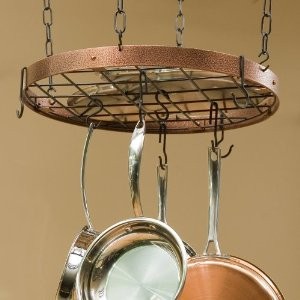 USA Pans – KS – High-quality metal bakeware and cookware. Cookware is 5-ply clad stainless (just like All-Clad), and the bakeware has AMERICOAT Plus silicone coating that is a clear nonstick free of PTFE's and PFOA's. Bakeware also has a corrugated/fluted design to prevent sticking and is used widely commercially.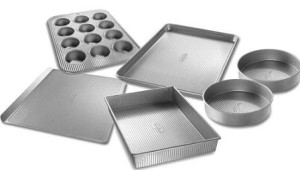 Vitamix – Cleveland, OH – Uniquely patented blending products, considered to be the most powerful on the market and used commercially by many restaurants and professionals.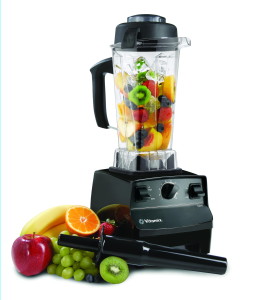 William Bounds – Torrance, CA – Pepper, salt and spice grinders/mills that have a special patented mechanism that actually crushes the pepper, which is the proper way to do it. Thus their slogan, "We've got a crush on pepper"!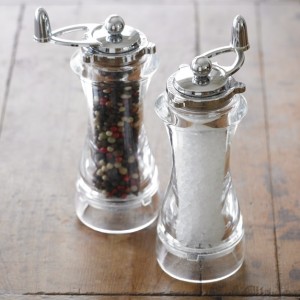 NOT QUITE MADE IN THE USA…
I know I put a few exceptions in the top portion already, but I feel these are a little more obviously not made in the United States, yet worth mentioning.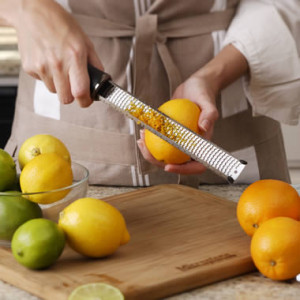 Microplane – All Microplane blades are made in the USA, however the materials for the various handles are outsourced. Everything needing piecing together is assembled in Mexico. Therefore, if you were to buy the basic handle-less Classic Zester, you would be buying a product fully from the US.
Assembled in the USA: Kitchen Aid stand mixers. Parts come from various countries. The all-metal pasta attachments are still made in Italy, which is notable. They slap a flag sticker on the boxes that say "assembled in the USA" but people don't read it and assume they are made here.