Ceramic knives are pretty cool. I admit I was once a skeptic and often told customers I would be extremely worried about breaking them. They probably do fall into that category with Asian knives—if you aren't going to care for it properly (re: wash it immediately after use and put it away), don't buy it.

I have since been able to handle several ceramic knives, mainly Kyocera, and these guys are pretty awesome. They are actually pretty strong—the sales rep let me drop one several times onto the hardwood floor. That was really my only holdout, and the simple act of dropping it made me a believer. Not saying you should throw them on the floor–they are still potentially breakable. Plus you don't want to cut your foot. 😉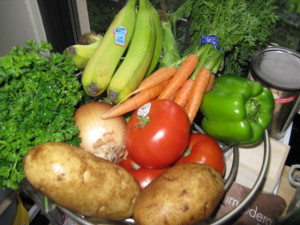 I don't own a ceramic knife, but it would be great for cutting all this produce!

The other amazing thing about ceramic knives, which I've always endorsed, is the fact that they stay sharp 10x longer than a steel knife. A great option if you're not into honing and sharpening. They're also rust and stain-proof, as well as germ-resistant. People love these for slicing fruits and veggies because ceramic won't brown foods like steel knives can, or transfer a metallic taste or smell to the food.

The cool thing about Kyocera in particular is that they will actually sharpen your ceramic knives for free, you just have to pay to mail them in. Lifetime offer–not a bad deal!

I recommend buying a 6-8" chef knife for a budding young chef on their way to college. They won't have to worry about sharpening, and they will have it forever if they take good care of it.

PS — They also make peelers and mandoline slicers, which is great because it's next to impossible to sharpen the blades on regular metal ones, but a ceramic version will stay sharper way longer.