Last year, all of these GORGEOUS dahlias bloomed in my yard all summer long and even into the fall. I guess I was spoiled. I think when I was identifying all my plants someone did make mention of potential ear wigs, but I was so busy chopping things back in the jungle yard I had inherited that I didn't have time to deal with tiny holes in leaves. Everything was still growing and blooming, wasn't it?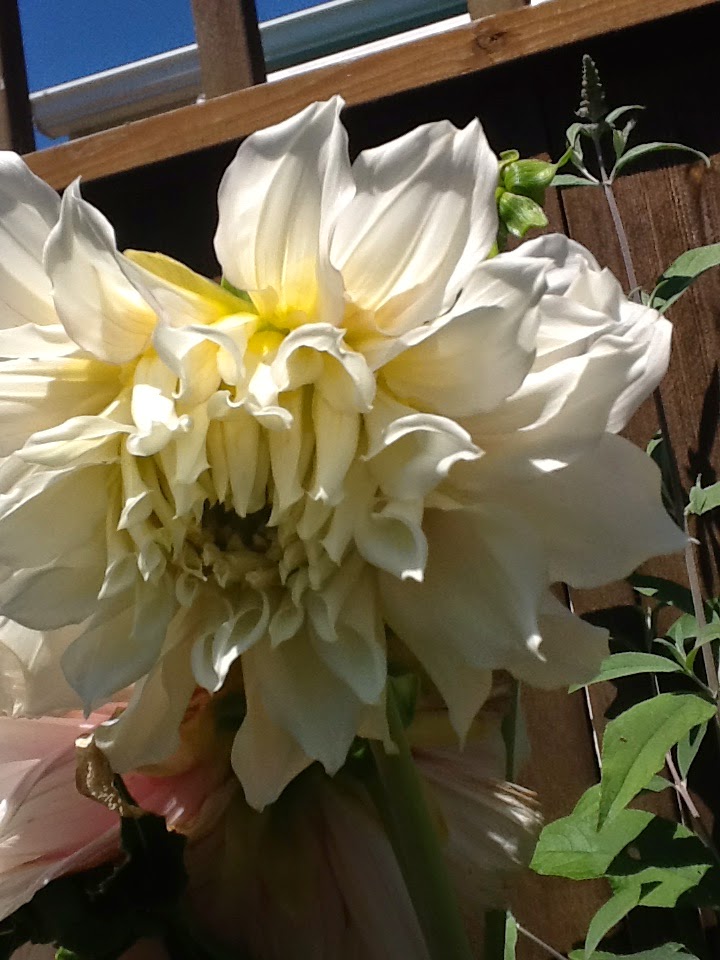 So many varieties of dahlias!
This year, I felt on top of my game in the yard since everything had been mostly pruned back and it's not as much of a jungle out there! I got a really good start on things. I had the beds all weeded and pruned, ready for new dahlias. The daffodils that were so strategically planted between the dahlias were finishing their blooming, and I was lazy and didn't cut back their stems right away. If I had, I may have noticed that the dahlias were indeed sprouting.
ALREADY?!?! Isn't it too early? It's only the beginning of May! And by the time I realized this, they already looked like this:
I mean, I thought this was gonna be it!
And now they look like this because I wasn't sure what was decimating my crop, and figured the above pictures was the worst that would happen.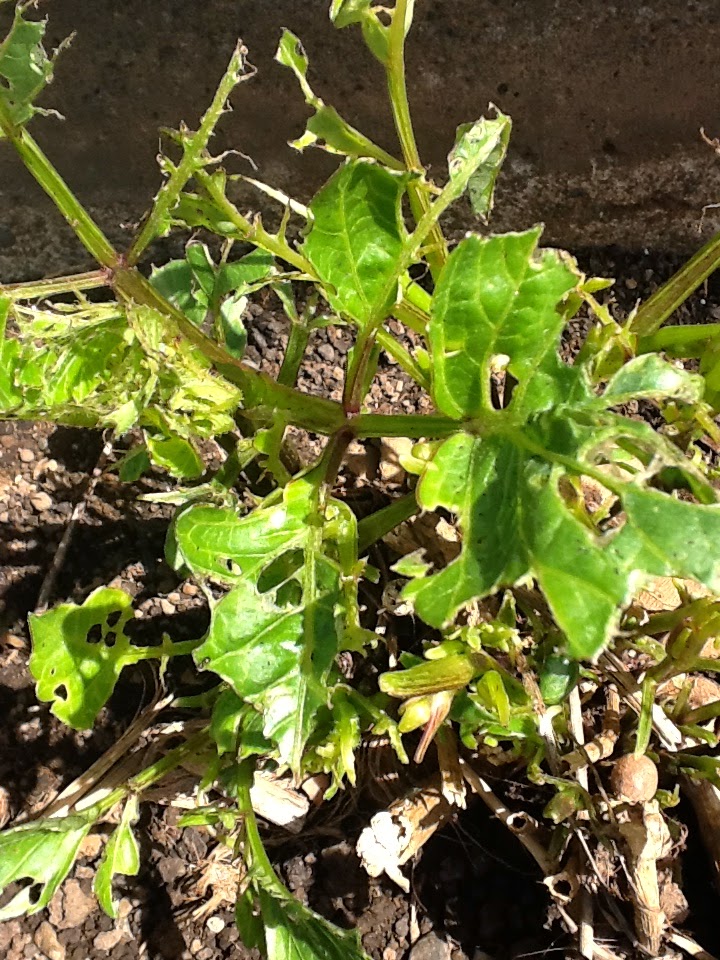 Poor dahlias!!!
I figured out what the issue was. Slugs. Probably earwigs, too, since I'm seeing evidence of those on my rhubarb, as well. So the first thing I did was start cleaning out my eggshells and saving all of our coffee grounds. I crushed the eggshells up (so that's probably what you're seeing in some of these photos on the ground) and sprinkled coffee grounds in a ring around all of the dahlia clumps. But then I realized there were signs of tunneling, and with the amount of crop decimation, I think I even have these extra-awesome black-keeled slugs, which destroy tuber crops pretty much entirely.
So I laid out one dish of beer to see what would happen: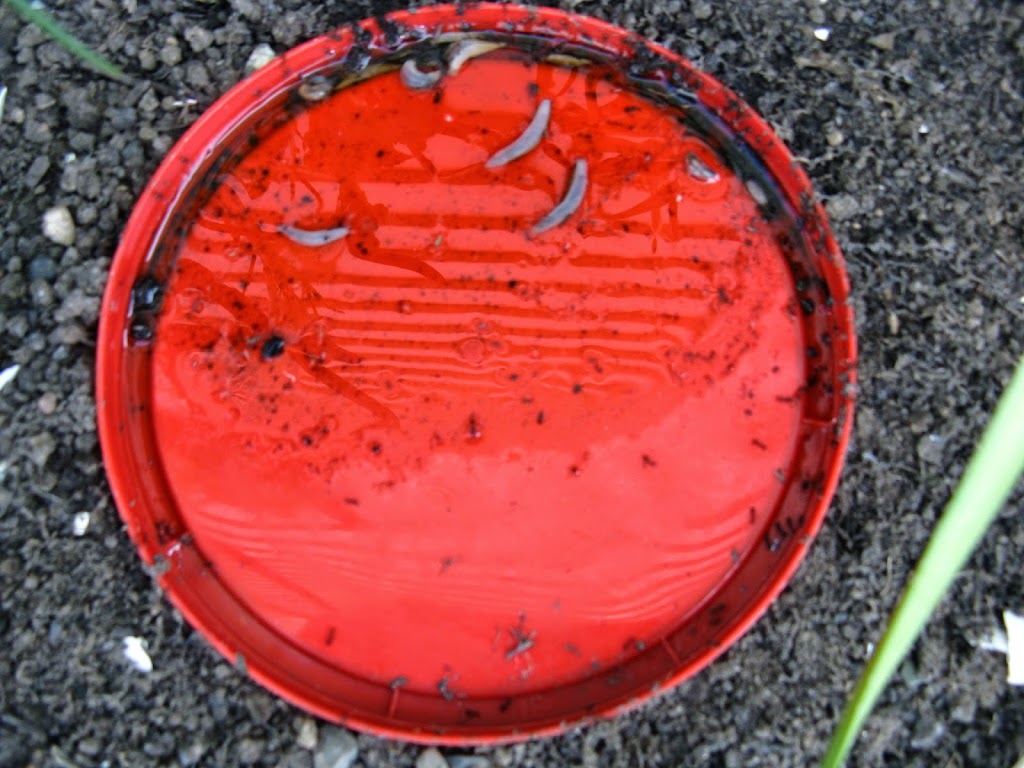 Mmm…dead, drunk slugs!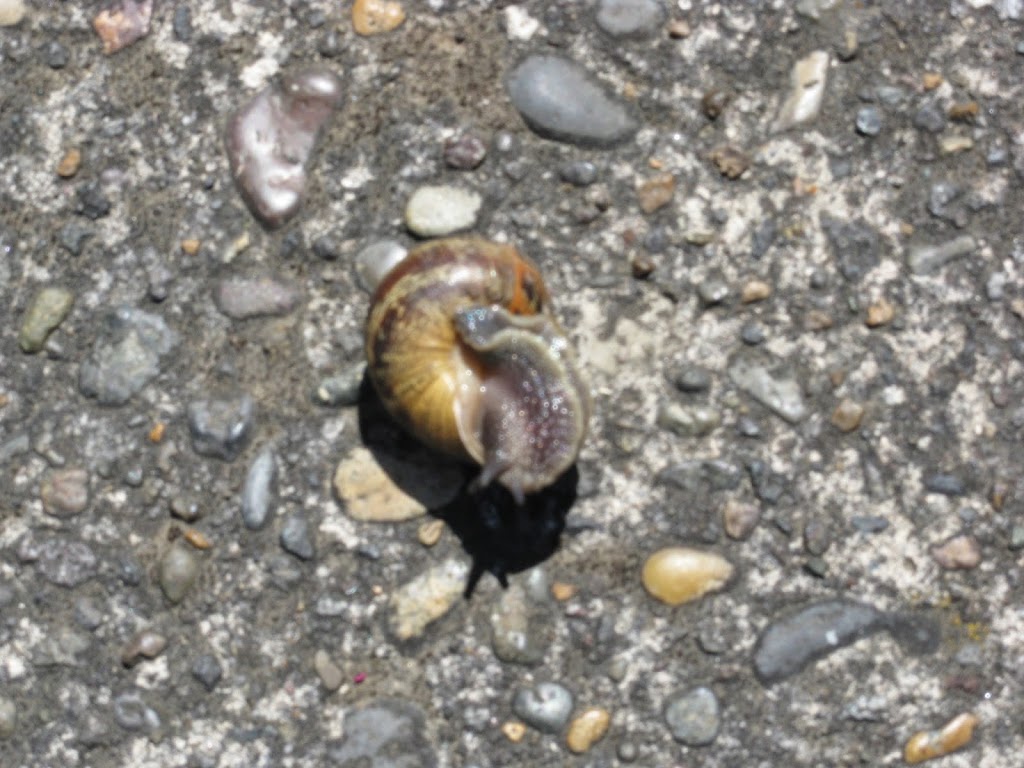 Snail!
Since that seemed to work, the second night I laid out several dishes of beer in various locations of destruction. It seemed by the third night the slugs were getting larger. (What I thought was "normal" sized; the first ones seemed ridiculously small and I wondered how they did all that damage so fast before I realized it.) I went out later than normal to put beer in the dishes and was frightened when my flashlight shone on some of those "normal" sized ones already trying to taste yesterday's beer residue. However, they were gone the next morning!
The instructions on the Sluggo say to lay it down in the evening and it should last through wind and rain for 4 weeks. You can reapply as often as you see the pellets disappear or at least every 2 weeks, depending on the severity of the infestation. The ground needs to be moist but no standing water.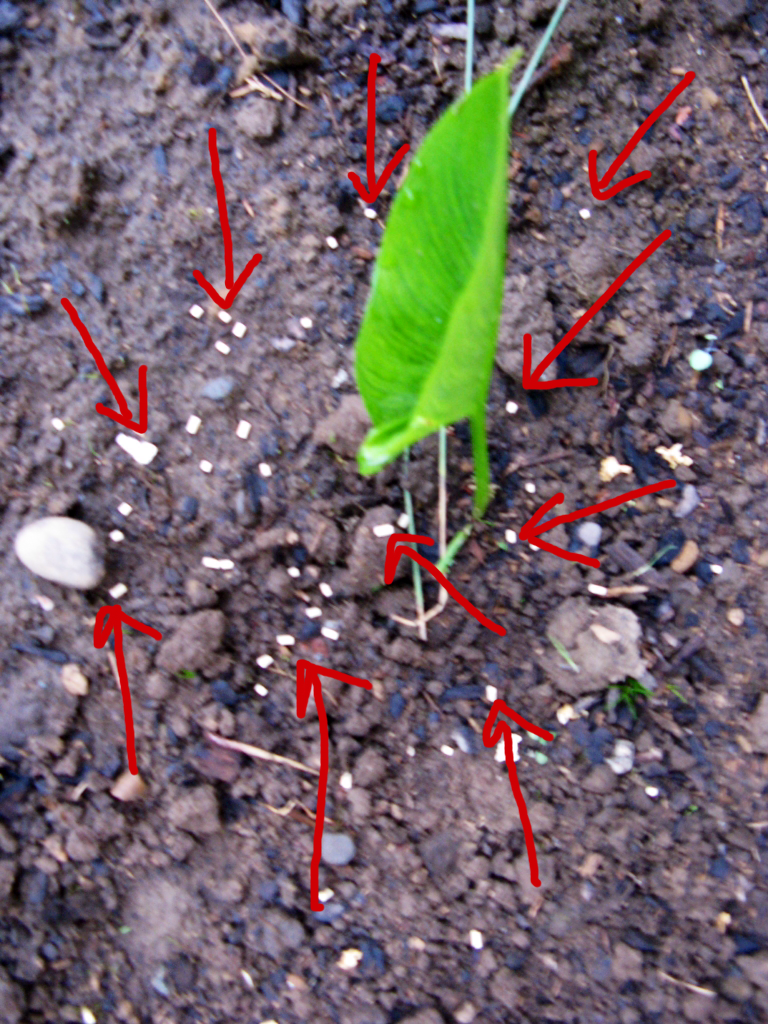 Sluggo pellets surrounding my lily sprout
Sluggo will not affect any other critters, and is also safe for your pets and kids to be around, as well as vegetation you are planning on eating from your garden – right up to harvest day. The slugs and snails will immediately stop eating, no matter how tiny an amount of Sluggo they ingest. They will lose their appetite and eventually die from starvation. You probably will not see them since they go off to secluded places to die, so you'll only know it's working by your plant damage decreasing. I am still going to keep collecting and putting out the eggshells and coffee grounds. (**Coffee grounds also deter ants!!**) I will let you all know how it goes and if the dahlias survive and bloom for me again this year!
The slugs already had their way with
this lily before it bloomed.   🙁