Slow cookers. Crock-pots. Is there a difference? No. Does it matter which brand you buy? Probably a little, but not really.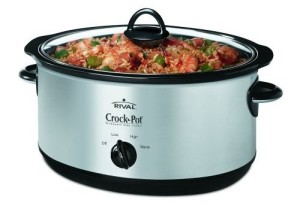 A little more detail! Crock-Pot is a brand name given to the original slow cooker (the very original name being the "Naxon Beanery All-Purpose Cooker") by the Rival Company when it bought Naxon in 1970. This can still be confusing, as seen by Google Shopping – it lists Crock-Pot and Rival as two different brands. Generally, you will see the little Rival logo above the Crock-Pot logo, but not always. The kicker? Rival is now owned by Sunbeam. My guess is that's why not all of them have the Rival logo.
Ok, was that clear as mud? Simplified – slow cooker is the official term and Crock-Pot is a brand name. It's like Kleenex and tissues. That's the BEST kind of marketing, because it's free! (Marketing major over here, kids.)
Alright, now that we've cleared that up, the next thing to discuss are the differences between all these slow cookers. Generally it will be the capacity size and how many buttons/cooking options are offered. All slow cookers will have an electric heating base, a ceramic cooking pot/crock (get it? Crock-Pot!), and a glass lid with or without a vent hole in it.
Capacity is clearly something you need to decide for yourself. How many people do you usually cook for? What types of things are you hoping to cook in your slow cooker? Remember, you can always make less in a larger vessel, but you cannot make more in a smaller one! You just need to adjust your cooking times and temps. 😛 Considering shape, there are both oval and round slow cookers. It might be easier to fit a small bird, a roast or other meat into an oval shape, but the choice is purely personal preference.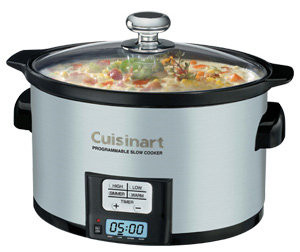 I think Cuisinart makes the smallest slow cooker at 3.5-quarts. This isn't counting any of the smaller buffet serving warmers (key word 'warmer' – they don't cook!), like the Slow Cooker "Little Dipper" 16-oz. warmer that usually only comes as a free gift with a larger slow cooker. (You can usually find them for sale alone at Goodwill, however!) Several brands make an 8-quart, which is the largest I think you can find. This is an improvement because a couple of years ago it was hard to find larger than 6- or 7-quarts.
Cooking options are generally very simple on most slow cookers, having 2-4 settings that include: Off, Warm, Low, High. Warm is not a cooking mode, it just keeps the food at temperature when cooking is done. Crock-Pot makes a lot of cool buffet serving warmers that only keep already cooked food warm – they don't cook, but they're great for people who entertain a lot!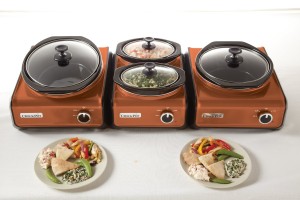 Programmable slow cookers will automatically switch over to "Warm" mode after a certain amount of hours on a cooking mode, however, I have only come across one that will turn itself completely off. The Cuisinart programmable slow cookers all have an 8-hour "Warm" mode maximum, at which point it will beep five times and turn itself off automatically.
Ah, but alas, technology has caught up with us! I have discovered another one that you can control via an app on your cell phone! The Crock-Pot 6-quart Slow Cooker with WeMo. In searching through the manual and FAQs, it seems like this will be the first slow cooker that you could load food into and start at a later time – but beware, as the reason no one else has done this is for food safety reasons – you don't want to leave uncooked food out for very long, so I think the idea behind this smart cooker is that if you're running late, you can easily turn it off or down to warm until you can get home to it, not that you can dump everything in and leave it sitting out to spoil for a few hours before you turn it on.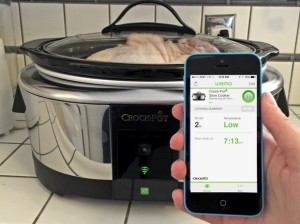 Vent Hole in Lid
I can't seem to find a reliable source of information from vendors or consumers about some slow cookers having vent holes and others not. I did find this site that claims, as many others do, that newer slow cookers run much hotter than those of the old days. So my final thought on the matter is that the manufacturers are adding these holes to prevent explosions. This isn't a pressure cooker – you don't want a perfectly tight seal, or else you will get a pressure build-up and potentially blow-up your dinner.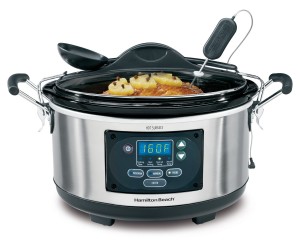 A lot of folks will encourage you to wrap your entire cooker and lid with aluminum foil to try and make the seal impenetrable, but the vent hole is too small to let THAT much moisture out that your food will dry out. You can always add more liquid if you notice your cooker is drying up faster than what the recipe calls for.
If you let your food cool inside of the crock pot, it can create a vacuum seal that can make removing the lid extremely challenging, so this is another reason for the vent hole. Some slow cookers come with a meat probe and the probe fits in the vent hole and rests there nicely.
Multi-Cookers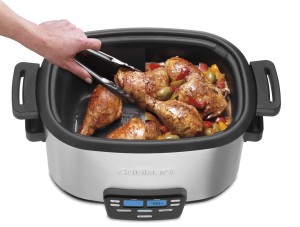 Everyone is coming out with multi-cookers over the last couple of years, and depending on the brand, they can usually do at least three things – slow cook, brown/saute, and steam. Some can also bake, cook rice, roast, or even pressure cook! Since all brands and models are so new to the market I can't fully back buying any one over the other. Cuisinart, Kitchen Aid, and Oster are usually good bets – I am pretty certain that Cuisinart put out the very first one and everyone else followed suit.
I do personally own a Ninja 3-in-1 cooking system, which is considered a multi-cooker because it has a slow cooker setting, a stovetop setting (brown/saute), and an oven setting (bake/roast). There is now a 4-in-1 that also has a steam setting.
So far I really like the Ninja – I've had it for almost a year and have used it quite a bit. I have personally never been much into slow cooking and when I finally got a little 4-quart Crock-Pot a couple of years ago, I hardly used it. I was annoyed by recipes that claim you can make things like pulled pork in your slow cooker and have it turn out like it normally would. (Maybe this happens for other people, but not me! Haha) And don't get me started on using another pan and starting on the stovetop, then transferring to slow cooker….and/or transferring afterwards to the oven! No! Slow cooking is supposed to be easy, one-pot cooking in my mind. And the Ninja accomplishes that because you can cook the meat on the stovetop setting and then plop everything else in and turn it over to slow cooker mode. Roast a chicken then immediately make your stock! Beautiful!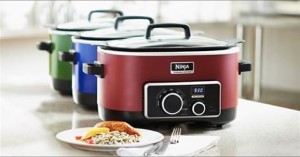 That being said, I think any multi-cooker would bring me the same satisfaction. However, the downside is that all of these have nonstick aluminum cooking pots inside of them, which of course they all claim are dishwasher safe, but the dishwasher detergent is just too harsh for nonstick and I got scratches on mine after one wash. Lesson learned – I leave it out of the dishwasher now! So I would advise the same on any of these other multi-cookers, also. The ones with glass lids, at least the lid can go in the dishwasher (the 3-in-1 doesn't, so I have to hand wash, but the 4-in-1 comes with glass). Kitchen Aid is elusive about the material of their cooking pot, but call it the "CERAMASHIELD™nonstick cooking pot with pouring spout" and emphasize that repeated dishwashing can reduce the effectiveness of the nonstick coating, so I feel secure in saying it's probably also an aluminum pot with nonstick coating, just this specific brand of coating.
The Ninjas are both 6-quarts, as is the Oster brand. Cuisinart's and Kitchen Aid's multi-cookers are only 4-quart capacity. They all come with a small roasting rack included, and some of them have other accessories you can purchase to go with them, including a 'stir tower' for the Kitchen Aid model!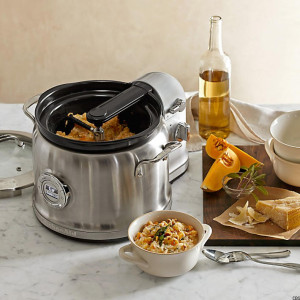 Read The Kitchn's tips on what mistakes to avoid when using your slow cooker.