Electric espresso machines can be a fun addition to your kitchen or someone's apartment or college dorm room if they can't find the space for a full-size drip coffee maker. If you're a serious coffee or espresso drinker, you probably want to consider something a bit heartier if you're going to be utilizing it on a regular basis.
Capresso 4-cup espresso
Knockout box

Small, inexpensive espresso makers are for the occasional espresso drinker; someone who is going to keep it up on a shelf out of the way until they have company over. With this category, you're going to plan on spending anywhere from $40-$80 on a machine. Krups used to be my go-to brand, but since their outsourcing I'm not as confident recommending them anymore and quite honestly, the store I worked at looked away from the small machines because so many people try to buy these when they really needed something stronger. I would recommend reading recent reviews and sticking with the solid brand names. Capresso hasn't changed the design of their 4-cup model much over the years and customers always said it was a very solid little machine.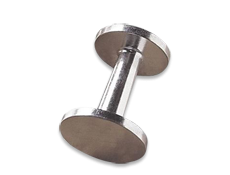 Espresso tamp (2-sided; 2 sizes)

A lot of people are now fascinated with the easier-to-use cup machines like Keurig and Nespresso. Traditional espresso machines generally require you to have a coffee grinder, a tamper to press it into the filter, and if you want to be very fancy, a knockout box to knock the grounds into after brewing. The cup style machines just ask that you buy the little pre-packaged cups, pop them in, and hit brew.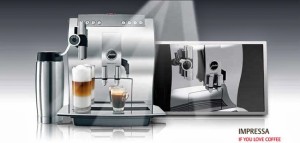 Jura Capresso Z7…my personal favorite (go big or go home, right?!?)
And on the farthest end, you can pay quite a bit to get an electric machine that brews several varieties of coffee drinks and requires very little cleanup. The ones I worked most extensively with were the Jura Capresso machines, and they are AMAZING. These guys just require you keep water in their tank (of which you have size selection, so you could buy something quite large and rarely need to refill it) and beans in the bean hopper. They have so many settings that you can personalize, it's hard not to love how simple it can be to use! You only have to manually change the grind if you and your housemates disagree on that, the rest is automatic, unless you want to be more manual with them. They now even make them to have thermal milk carafes you can attach to them and it will pull the milk into your beverage and steam or foam it. These do take up quite a bit more counter space and have a heftier price tag, so I can see why the cup machines are selling so well.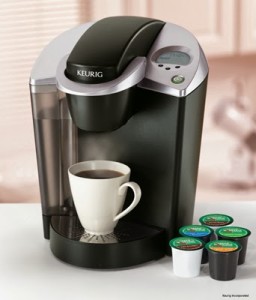 Keurig single-serve coffee machine

So to compare the cup machines! Keurig is obviously the lower pricetag and easier to obtain the special cups required to use it. They've also finally started to make machines that can take a special cup you can fill with your own coffee grounds, bypassing their cups if you wanted to. The only downside to these machines is that I've never met anyone who's owned one for more than 2-3 years. (If you have, PLEASE write to me and let me know!) I guess the price tag isn't too terrible that folks don't mind replacing them every few years, but to me that is a bit of cash that I'd like to last. I'd also heard lots of bad stories about their customer service when the machines do break down from customers coming to the store I worked at looking to upgrade to the Nespresso machine. Also, technically, the Keurig is a single-serve coffee maker, not really an espresso machine, which is a huge difference to the end user, but when consumers are comparing machines, this is where they are trying to find the difference, usually.

Keurig news alert! In researching this, I discovered that Keurig has a new brewer that takes a different kind of cup. Why? Because they lost their patent on the k-cups! That is why so many other manufacturers are making them now and also how they can be so inexpensive. My bet is Keurig will stop making the original brewers and focus on these new Vue brewers. Don't fret! Mr. Coffee and Cuisinart both make k-cup brewers now, and I'm sure lots of other manufacturers will follow suit.
Nespresso Citiz

The Nespresso is different from Keurig in a few ways. First off, they only make real coffee, not all these fluffy flavors like "frosted donut" and whatnot that you can find for the Keurig (ok, I just looked and they do now have 3 lightly flavored espresso blends, but basic flavors!) Different beans and blends of some very nice coffees. Their customer service is top-notch and I've heard nothing but amazingly nice stories about having to deal with them. And they only allow their cups to be sold at Nespresso outlets or online. They used to sell them at kitchen stores but Williams-Sonoma wasn't watching shelf dates and actually sold some expired cups to customers. Nespresso is meticulous about their coffee and want to ensure you have the best cup, so they pulled them from the stores to control inventory themselves. The cups have a shelf life of one year, so you can order a lot at once and store them. They charge one flat rate to ship as many as you want, and also offer rush delivery. The store I worked at used to give pods to customers if they needed a few to get them through the weekend or wanted to sample a different blend, so always ask these questions!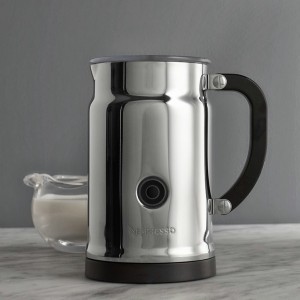 Nespresso Aeroccino
Nespresso machines also have 19 bars of pressure, versus Keurig's 15 to push the espresso shot out. Everything I've researched online varies on what number is actually standard, but from what I have always heard from the various manufacturers I used to sell is that 18 bars is the standard with electric machines. Some of the Jura Capresso's are lower, but that is because they have thermo-blocking technology which somehow affects that (don't ask me how! Science! Magic!). Nespresso also has a catch tray for the used pods so you don't have to discard them immediately like you do with the Keurig (and they are HOT!). Reviews also say that Keurig is one of the slowest single-serve coffee maker on the market, clocking in at 3.5 minutes because of how long it takes to warm up. Nespresso also sells a couple of milk frothers that froth both warm and cold! You can even find it attached to some of their espresso machine models.

The Nespresso machines also very rarely need descaling, but will tell you when it's time. Unlike a regular drip coffee maker or other types of espresso machines, there are no internal tubes for the water to run through and buildup in. I hear Keurig users descale theirs a bit more often. And one of the bigger comparisons, wastefulness. K-cups are cheap plastic that's not recyclable. Nespresso pods are in aluminum foil, so you can peel them open, compost the grounds, and recycle the pod. Alternately, Sur la Table participates in a TerraCycle upcycling program, so you can take your empty pods in to Sur la Table and they will send them in to be upcycled into something new. Alternately, you could potentially register with TerraCycle yourself (or encourage your local kitchen retailer to join for your community!), and they pay for the shipping to turn the pods in.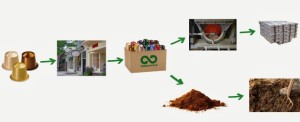 TerraCycle upcycles the Nespresso pods into new products and composts the coffee grounds.
Also, I can't not add that George Clooney is the spokesperson for Nespresso. Classy. I'm serious; Google image search "Nespresso" and Mr. Clooney's serious espresso-drinking face will be all over your screen. 😛

Nespresso. What else would George Clooney drink? 😉
With both the Keurig and Nespresso machines, it is good to keep in mind that these machines will end up costing you a lot of money in the long run if you are a big coffee drinker. These machines are meant for the occasional drinker who drinks maybe 1-2 cups per day. Any more than that and your coffee bill for the year is going to be a lot larger than with a larger scale machine like the Juras or a regular drip machine. Yes, they are convenient to use, but if you are using them that heavily, you're going to have to descale that much more often, which also puts a damper on the whole "easier to use" bit.

Coffee Grinder Information
Coffee Maker Basics