Since we started talking about these guys with enamel, we now have to discuss in depth.  For regular cast iron with no enamel coating:
Pros:
All natural!
Adds iron to your food
Distributes heat evenly
Gets better with age – the more you season it, the more nonstick it will become. Make sure grandma leaves hers to you in her will!  I met a man whose family had passed theirs down for over 100 years – he couldn't believe how "rough" new cast iron feels!
Hard to kill – if you accidentally wash it with soap, just re-season it!  My friend found some badly treated cast iron second-hand and happened to be an art student with access to a sandblaster, so she sandblasted it and re-seasoned it – good as new!
Lodge

– the original cast iron, still made in the USA!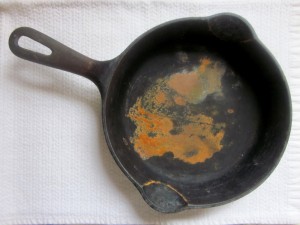 Cons:
Heavy
Takes a long time to heat up/cool down
Not supposed to wash with soap (but if you do, just re-season) or dishwasher

This leads most people to have specific pans for specific things, and then they just don't ever wash them, or rarely, at least.
You can use a mild soap but make sure to dry and season immediately!
Nowadays, brand new cast iron pans will come "pre-seasoned".  This means that they put a bunch of pans in a giant oven and blasted them with vegetable oil.  You're still going to need to season it!  Like I said, the older the better, so you're going to need to break this baby in.  Lodge's website has great use and care tips that I direct everyone to.
Click here to return to "Buying Cookware" to compare to other types of cookware!