I am so glad that I waited to write this blog because Kitchen Aid just recently came out with their new model, so we can include that in the review. Huzzah!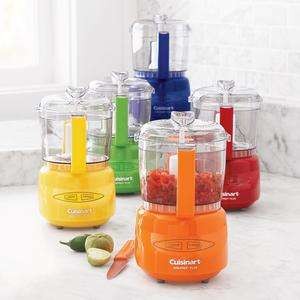 Food processors can be pretty expensive, and a lot of the time you can do the same thing by hand or with a blender, so it's a tough call deciding on whether or not you really need one. If you do a lot of food preparation, a food processor can save you sooooo much time in the kitchen, and it can do a lot of things a blender can't do, so that's a plus.
Mini Choppers
I want to start out by discussing mini choppers. A lot of people refer to these as food processors, but the distinction is that it only has a chopping blade, no discs for slicing or shredding. Most of these you'll find are in a $20-50 price range and will usually just have two speeds. It might say "chop" or "grind" but in all honesty, they are just "fast" and "faster". I mentioned these in my "Coffee Grinder" blog because a lot of people buy these to grind their coffee beans with.
Mini choppers are usually 2-3 cups in size, and like most larger food processors, can't handle a ton of liquid. They are quite handy for small jobs, like chopping up veggies really quick or making a small batch of hummus or salsa. With the limited abilities of the mini chopper, I don't think that brand really matters. Like with a big food processor, I don't think any of these will work unless all the pieces are properly snapped into place, meaning you can't accidentally chop your fingers or splash food everywhere. (If there's too much liquid, that will probably escape and make a mess.) This is actually the one item Cuisinart does NOT put a 3-year warranty on because people so often misuse them. (Read: they should have purchased a blender or a real food processor and burned it out.)
Some immersion blenders come with a mini chopper attachment that the stick's motor can power. These are usually one cup and not very useful, so I wouldn't base your purchase of the immersion blender solely off of that optional feature.
Salad Shooters
I noticed a few of these while image shopping, so figured it was worth a mention. The term "salad shooter" is trademarked to the original product by Presto, so everyone else seems to call these "salad makers" or "mini food processors". These machines contain rotating discs that "shoot" the end product out and you have to have a bowl or something to catch it. These only slice and shred, they cannot chop, but nonetheless, pretty handy.
Food Processors
Alright, so moving along to the big machines, the ones that do it all! Obviously there's a larger motor, meaning a heavier base, so keep that in mind if you don't have counter space! Having to get it in and out of a cupboard or pantry might be too much effort. 
Any brand of food processor will come with a metal chopping blade, a stem piece to attach the discs, and a slicing and shredding disc. Sometimes these are combined in a reversible two-sided disc, meaning you'll only have one disc; one side shreds, one side slices. You will have buttons that say "On", "Off", and "Pulse". "Pulse" will spin once and you have to keep hitting it repeatedly to keep the blade going. There will also be a feed tube and some sort of pusher to help push your items into the machine as well as prevent splashing. Sometimes they also include a plastic dough blade, as well. Like I mentioned with the mini choppers, they make these super safe, as they won't work unless all pieces are properly snapped into place.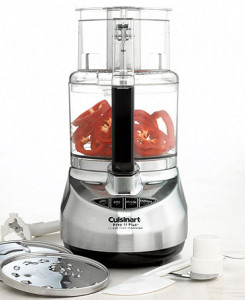 As for brand, that truly does matter with the larger food processors. The only choice, in my opinion, is a Cuisinart, and you can't go wrong with any model. The motors they put on these things just don't die! The kitchen store I worked at does a trade-in event annually, where you can bring in your old chopper or food processor, working or not, and get money towards a new Cuisinart. People would bring in 20 year old Cuisinart food processors and tell us that they still worked, they were just finally ready to upgrade to a newer model with more features. Color me amazed!
Remember my mantra: Kitchen Aid for stand mixers, Cuisinart for food processors.
Cuisinart also puts astounding warranties on the motors of their food processors. The warranties vary by model, but none are less than 5 years, most are 10, and some are as much as 20! Nobody else in the industry puts more than a 1-year warranty on their motors, so to me, it's worth the money!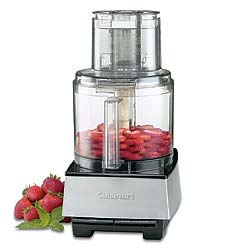 I'm not going to say one model is better than any of the others, with the exception of their newer models in the Elite collection! Those are the best, just because of the amazing features they have, which we will discuss very shortly. If you don't have a need for all the new features on the newest models, older models still have amazing motors that won't disappoint. You're basically comparing what size work bowl you need for your home since they all pretty much do the same thing. There's a 14-cup model that is less expensive than some of the smaller bowl models because it has a very basic design and no "Pulse" button, just two paddle buttons for off and on.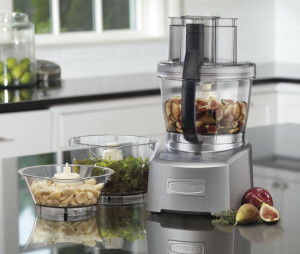 Ok, ok, so these Elite food processors. They've been around for a few years at this point, and I really don't see the need to make any improvements. The standard food processor hasn't changed much other than aesthetics and feed tube sizes getting larger or being multiple pieces. But the largest complaint about all food processors has always been the liquid fill line always being about an inch from the bottom of the work bowl, making it really hard to make soups and other liquidy things. Kitchen Aid had come out with a multi-bowl food processor, but using the small bowl always made a big mess in the larger bowl anyway, so what's the point?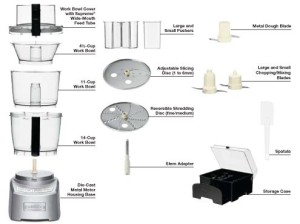 Cuisinart fixed that! They put a silicone ring in the lid so that the liquid fill line in both the large bowl and the mini-bowl (nonexistent for the mini-bowl in previous Kitchen Aid models) was almost to the very top of the bowl!! No mess in the bigger bowl if you wanted to use the small one for a little job. The Elite comes in a 12-cup model, which includes a 4-cup, as well as a 14-cup model, which includes both an 11- and a 4.5-cup bowl. The bowls all also contain a slight pouring lip to make it easier to pour the liquid out. Genius!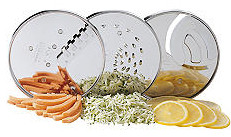 The next thing Cuisinart did was combine the slicing and shredding discs into multi-discs so customers didn't have to a) purchase multiple extra discs and b) have extra clutter for all the different discs they owned. So the slicing disc has an adjustable knob that gives you 6 different thicknesses on the blade and the shredding disc is reversible with coarse on one side and fine on the other.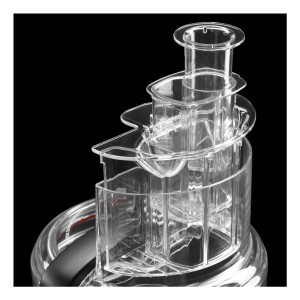 They also made the motors even stronger, so the largest size, the 14-cup, has a 20 year motor warranty. I should note that Cuisinart has always offered the largest feed tubes on their lids. Speaking of feed tubes, a lot of the brands now have multi-piece feed tubes, which confuses people. There's multiple pieces so you can choose which piece is large enough for your food to fit through. That way if you have something small, you don't have to potentially get splashed by using the largest opening to drop it into the processor. All two or three pieces have a flat base to act as a pusher for the food you're dropping in, as well.
Kitchen Aid's new model has copied all of these new ideas, which is great. I haven't seen one in person yet, but have watched some demonstrations on TV and the silicone ring doesn't look as thick as Cuisinart's. Since they obviously couldn't copy everything exactly, the way to adjust their slicing disc is a lever on the front of the base of the machine, not on the disc itself like Cuisinart (they're calling it ExactSlice), so you can adjust the thickness mid-slice.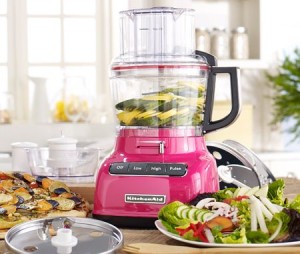 Looking at specs of the Kitchen Aid machine online, I'm also noticing that their liquid fill line is only a little over the halfway point of the work bowl, whereas Cuisinart's is almost to the top. I can't see it on the mini-bowl, but it does say the smaller one can handle liquids, too. I was so excited by the prospect of them copying Cuisinart I almost bought one. Who can resist those fun colors?! But, it's still expensive. And so, looking back at the warranty issue, I was convinced, personally – you might not care – of the quality and paying a bit more to have the luxury of knowing I will never have to make this purchase again in my lifetime.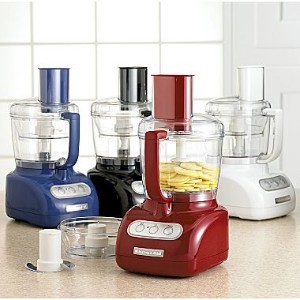 One thing to note is that the Kitchen Aid food processor is extremely new and a lot of stores aren't selling it yet. The last model of Kitchen Aid food processors were performing so badly that the kitchen store I worked at stopped carrying them, and looking at all of the big kitchen stores now, it looks like nobody currently carries any Kitchen Aid food processors at all. I am wondering if with all the aesthetic changes that Kitchen Aid bothered to fix the technical issues with this new model and stores will renew their faith and start selling them again. Time will tell!! 
The Cuisinart food processor/blender 2-in-1 was mentioned in my "Blenders" blog, but I will mention it again, almost verbatim. I am always leery of anything that is a 2-in-1 as it calls to mind those TVs that had the VHS player embedded in them, and the VHS player ALWAYS broke. I love Cuisinart, and I'm sure this is a solid machine, but I wouldn't put my trust in the performance of either being as high caliber as a stand-alone. Personal opinion, only, of course!! 😛 The food processor is only 3 cups like a mini chopper, however, it can slice and shred, which a mini chopper cannot do, so that is definitely a plus. This does not come with the same motor warranty as the other Cuisinart food processors, so again, I don't think it's in the same realm when comparing.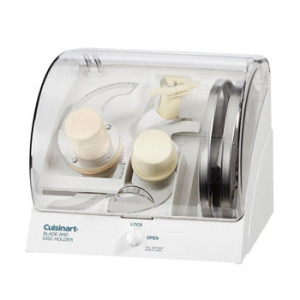 There are accessories you can purchase extra with most of the brands, including specialty cutting discs (like french fry and julienne) and cases to store your discs in.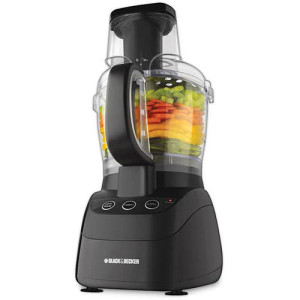 Hamilton Beach, Black and Decker, and Delonghi all make various models of food processors, as well.