There are a lot of varieties of nonstick coatings out there, and the great thing is that a lot of them don't contain PFOAs. Teflon has even bounced back from their name being dug through the dirt* and producing nonstick for some of the top brand names again. Unfortunately, in my experience, no matter how much you spend on nonstick cookware, it will always end up "sticking" and eventually chipping or peeling off. At least it's not toxic anymore, though, right? 😉

A way to keep your nonstick lasting longer is to give it a baking soda or Barkeeper's Friend "bath" every now and again. Nonstick cookware is porous, so even though you think you've cleaned it, there is stuff down in those pores. Baking soda sucks everything out of the pores.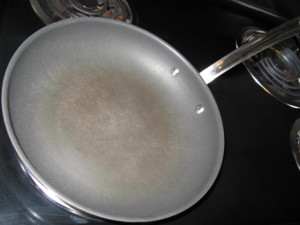 CIA 10″ Nonstick…a little worn out already.
Stainless steel with nonstick interior pans will usually still have rivets (see above photo), but on a lot of cheaper nonstick lines you can find rivet-less cookware, which is nice. You can also find some pretty cheap sets, making it a little easier on the wallet to have to replace every 4-5 years. You can't use metal utensils on nonstick cookware, either.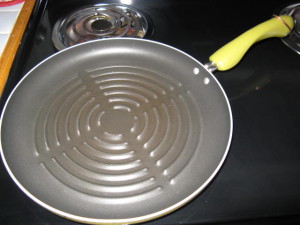 Paula Deen 11″ Nonstick Grill Pan; need to replace soon!

Another thing you want to avoid with nonstick cookware is aerosol cooking sprays because the propellant in it causes the nonstick to break down. You'll also get a sticky residue on the pan. Oil misters can work, but it's easier to use a brush or swirl oil in a pan if you need to use it.

Click here to return to "Buying Cookware" to compare to other types of cookware!


*In researching this article, I discovered that by Google searching "Teflon", everything below DuPont's website being first related to articles about how PFOA and Teflon are two different things!