I love fresh ground pepper! I put it on EVERYTHING! Which actually probably makes me a poor reviewer because I just leave all of my grinders set on "coarse" and rarely test out the other options. But I have used quite a few and can offer some insight and tips for maintenance, of course! First and foremost, the proper terminology is "mill" not "grinder" but I will mostly refer to them as grinders since that's what everybody calls them.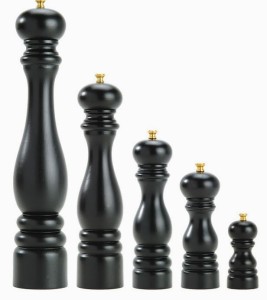 Peugeot mill in various sizes
Buying a Pepper or Salt Mill

Can't I just buy one grinder and do everything in one? 

The simple answer is yes, but there are always technicalities that lead you to lean more towards no. 🙂 A lot of inexpensive grinders will have a ceramic grinding mechanism which is safe for anything. However, you can't really "clean" any type of mill entirely, so if you want to grind multiple things, you will probably get residuals of other things you've used the grinder for.

The more important thing to consider is with metal mechanisms. Salt is highly corrosive so the metal in these grinders is usually an 18/10 stainless steel that's been chemically treated, versus a pepper mill just having a hardened steel to make it stronger for the peppercorns.

The next thing you need to consider is if you want the mill to have multiple grind settings. A lot of basic, inexpensive grinders will not come with options. The majority with settings will have three: coarse, medium, and fine. Sometimes you can find a mill with just two settings, but that's it! Peugeot, a French manufacturer, boasts "infinite" grind settings because you can stop the selector anywhere you want (on other models the selection you make "clicks" into place).
Trudeau Graviti mill
Other features you can find are upside-down grinders that store with the "top" side down to reduce the mess they can leave on your counter or table. You can also buy battery-operated grinders that work with the push of a button. Trudeau makes one of the most inexpensive and best-rated electric grinders I've seen, the Graviti mill. It actually works just by turning it upside down – you don't have to push a button! Peugeot pushes the bar further by selling one that also lights up while it's grinding for you. Hey – you've got to be able to see when you're dining by candlelight! 😛

Picking a Brand

Metal Mechanism Brands*
*Most brands that make steel pepper mills produce their salt mills with either ceramic or nylon.

Peugeot made the first pepper mill in 1841 and are still made in France today. While the guarantee on their manual grinders is only 5 years, the mechanism itself is guaranteed for life under normal use. Their most popular mills come in the same style in a plethora of sizes for you to choose from. To avoid the hassle that can sometimes come with filling your grinder, they offer some models with magnetic tops that just latch right on to the mill without any fuss. They also produce electric mills and even a classic-looking box mill. I mentioned already that they boast "infinite" grind settings, but in my personal experience, I did not notice huge differences other than coarse/medium/fine.

Peugeot's salt mills are an 18/10 stainless steel that's been treated to prevent corrosion.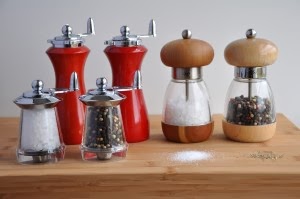 William Bounds mills

William Bounds is my favorite brand and made in the USA! They have been in business since 1963 and have a patented mill mechanism that evenly crushes instead of grinds.Since it's not grinding the mill components together, they can guarantee it will work for life. This is where their slogan "We've got a CRUSH on pepper" comes from!

William Bounds' salt mills are made with a ceramic crushing mechanism.

Vic Firth is a tad newer to the game, but also made in the USA. This is a company that is famous for making drumsticks and drum equipment – Vic Firth was a tympanist with the Boston Symphony Orchestra and happens to love cooking. Mario Batalli's pepper mills are Vic Firth brand with Mario's signature green and orange colors, as well as his signature on the side.

Vic Firth salt mills are made with a nylon grinding mechanism.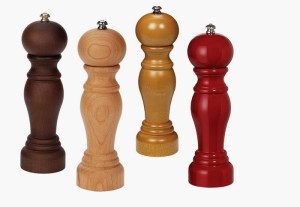 Vic Firth mills

Non-Metal Mill Brands

Most inexpensive pepper and salt mills you find are nylon or ceramic grinders.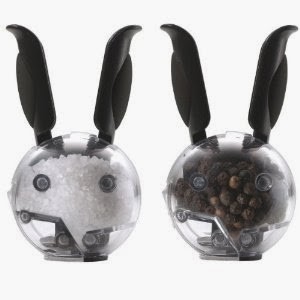 Chef'n PepperBall
Chef'n makes some pretty cool grinders, although I have to say they are very hit and miss with their salt and pepper grinders. I'm a huge Chef'n lover, but I got a lot of these returned in various models, from a simple table grinder to their more unique ergonomic styles. But when they work, they work forever, so just make sure you buy from a store that will not hassle you if you need to return it. It does look like they've updated the designs slightly so they might be even sturdier now.

They make some amazing ergonomic models, so if you have arthritis issues, think about the repetitive wrist movements you have to make to grind your pepper. My first pepper grinder use was a friend's Chef'n pepper ball and I thought it was the coolest thing ever – you just squeeze! They also make some 2-in-1 options that let you grind both salt and pepper in one unit.

These models all utilize a metal rasp, but they do make ceramic grinders, too.

Kuhn Rikon has a couple of ceramic models, their vase grinder being the most popular. As I mentioned, they make theirs in lots of fun colors so you can color-code your spices. They make an ergonomic lever-model for those with arthritis pain.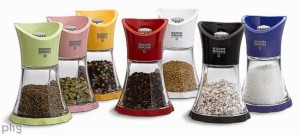 Kuhn Rikon vase grinders

OXO's ceramic grinders are only a few years old, but they look great, feel very sturdy, and I'm a huge fan of OXO so I would think should be good!

**Buying tip – Williams Sonoma has a pepper grinding area where you can actually test out the grinders before purchasing. I'm not sure if this is available at all locations, but it's really fun!**

How To Use & Maintain Your Mill

Basic mills have a body, a piece at the top (the "lid") that turns to activate the grinding mechanism inside, and a little ball on top that screws on to the mechanism to keep the lid in place. If you have coarseness settings, there is usually a circular piece just below the lid that you can turn and hear clicking into place at the next setting. Usually there is some sort of marking to indicate fine (smaller mark) to coarse (larger mark). Left to right = fine to coarse.

To fill the grinder, you unscrew the ball on the top, remove the lid and fill the base. There will usually be something in the way to indicate the "fill line". You always want to fill to BELOW this piece of the mill. Not even, and definitely not above. You need to leave room for the mechanism to turn. This was the most common problem when people tried to say their mill was broken – I would open it up, dump out a few peppercorns, and VOILA! It would work.
Kuhn Rikon is "upside-down"
As I mentioned before, you can find mills that work "upside-down" to keep the mess off of your counter or table. These fool a lot of people, so read the instructions first! Yes, even with something as simple as a pepper grinder, you should always read the instructions!! The Kuhn Rikon vase grinder is a great example of this and I sold them for a couple of years before I actually used one. People returned them all the time for not working but they would always return them empty so none of us working realized what the issue was – improper use! Someone finally brought it in with peppercorns and asked us what they were doing wrong and we realized they were the "upside-down" style!

There are special grinders you can buy for wet salt. You can only grind pink berry peppercorns within a pepper mix as long as there's not a lot of pink berries mixed in. Otherwise, put them in a ceramic or spice grinder, or use a mortar & pestle to grind them up. Putting either of these two items into a regular salt or pepper grinder will ruin your grinder.

Grinding Spices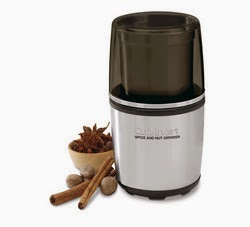 Cuisinart Spice and Nut Grinder
As I mentioned above, you can use most grinders for spices, just be careful of anything that could corrode a pepper mill. You should be able to find many inexpensive ceramic mills for spices. The Kuhn Rikon vase grinders are great and you can get it in all sorts of different colors to help differentiate between your spices!

Some people use inexpensive coffee grinders to grind their spices. You can read more about that on my "Coffee Grinder" blog, where I also mention the alternative of the Cuisinart Spice and Nut Grinder. For a few extra bucks, get something larger that grinds spices better and you can also clean out between spices.

Grinding Herbs

Microplane recently came out with an actual herb mill to grind your fresh herbs! I would love to test this out. There are a few gadgets you can find to chop herbs with, as well, but that's for another blog!

Grinding Nuts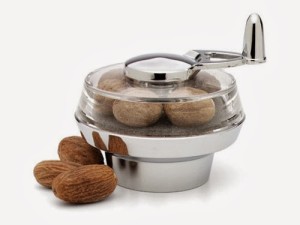 William Bounds Nut Twister nutmeg grinder
As already mentioned, Cuisinart has a great electric spice and nut grinder. Many of the manufacturers listed make several special nutmeg grinder models since that is a very popular spice. Peugeot and William Bounds probably have the most variety of other specific grinders (chocolate, cinnamon, chilies, etc.), as well.