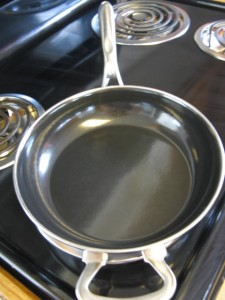 As I've mentioned before, enamel becomes glass.  (This will come up again when we discuss dinnerware.)  Glass is non-porous, meaning nothing gets in or out.  So any of you thinking that all these funky colors they put on enamel cookware are going to leech into your food, fear not!  Glass is also pretty tough, meaning you can be a little harder on these like you would with stainless.  This also means you can use metal utensils!  You will get surface scratching, but nothing that will damage the cookware.*
Chantal has a patented enamel-on-steel product that really can't be matched!  They've been doing this for years—I actually met a girl who said her German grandmother had owned these pans for decades and passed them on to her.  (They're made in Germany!)  Their newer line actually has a copper core and was created specifically for induction cook tops, but works well on all types of stoves.  The drawback is it's quite a bit heavier than their older lines, but they put "helper handles" on most pieces to assist.  That would be a second short handle on the opposite side of the regular handle so you can grab with both hands.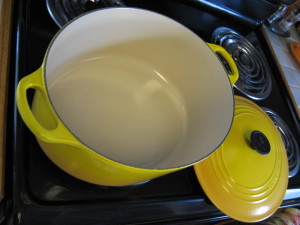 Porcelain enamel would be what you normally see on enameled cast iron, like Le Creuset, Staub, Lodge and other brands of enameled dutch ovens.
Some enamels are cheaply made in places like China and I've heard negative things in the past about potential issues, but I can't find anything about it now, so it must not be a problem anymore. This would include the cheaper brands like Rachel Ray, Martha Stewart, and now even Lodge, which is made in the USA, but the enamel comes from China.  Lowers the price so they can compete with the French brands Le Creuset & Staub.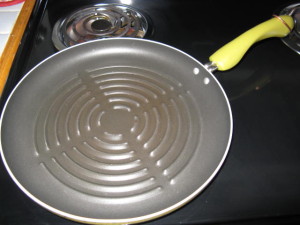 Don't confuse porcelain enamel cooking surface with the pans that are porcelain enamel with a nonstick cooking surface.  Those pans are just nonstick with an enamel exterior.  I have a Paula Dean grill pan that is porcelain enamel, and it's just like any other nonstick—I've had it for a couple of years and use it frequently, so it's starting to die.  The exterior has held up really well, though, I must say.  I've read mixed reviews on other brands holding up as well on the outside.
*To clarify to the less graceful ones (like myself), if you drop the pan really hard, you can chip the exterior, which does not affect the cooking of the food, so no worries.  (Actually, if it's REALLY hard, you can damage the whole dang thing, which isn't covered in the lifetime warranty, kids!)
Click here to return to "Buying Cookware" to compare to other types of cookware!