Buying Glassware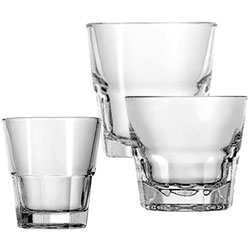 Glassware is pretty much a personal preference. I guess the first thing to consider is if you care whether or not it's made in China. Obviously you're going to be paying more if it's not. The second thing to consider would then be the level of durability you're seeking, particularly if you're putting it in the dishwasher or it's going to be utilized by children. Libbey, Anchor Hocking, and Duralex are very popular brands for folks looking for durability.
For barware, shape plays an important role in the type of liquors you're consuming. A lot of liquor drinks are either served in a highball [tumbler] glass (taller and skinnier) or an Old-fashioned [rocks/double rocks, lowball] glass (shorter and wider). Then, of course, you've got specialty cocktail glasses like martini or zombie [Collins]. And let's not even get started on all of the various types of beer glasses the connoisseur could find themselves looking for!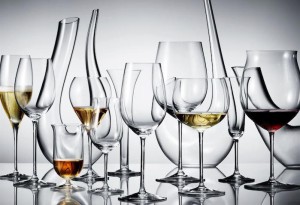 Stemware obviously puts us into another category because some people are very particular with what they are putting their wine into! What I have learned is that the shape of the wine glass matters because how the wine falls out of the glass and into your mouth – different wines need to hit different parts of your tongue. However, what the glass is made out of also plays a significant role, and personally, I was very skeptical of this fact until I did a special tasting with Riedel. If you've ever been to a winery, sometimes you can pay extra to use a fancier glass. Most people don't care, but real wine affectionados will want the special glass because it's made with lead crystal. It is also most likely a Riedel since there's not a whole lot of widely distributed manufacturers that are still making glassware this way.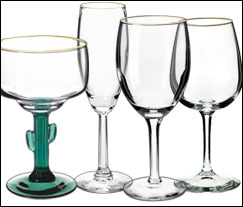 As for stemware durability, of course there is always Libbey, reliable and inexpensive. For something a little swankier and with more choices in shape and style, Schott Zweisel is a favorite. It's reinforced with titanium so they are super strong – safe for dishwashers and boisterous toasting! These are actually one of my favorite wedding gift ideas because banging together wine glasses is sure to impress anyone, trust me. 😉
Glassware Care
Glassware care: DON'T DROP IT! But seriously…
Most sturdy glassware will be dishwasher safe, but I've never seen a glass come out of a dishwasher without at least a little dot of a watermark on it, if not several. I've also opened dishwashers (albeit mostly in work environments) to see some of the sturdiest pieces of glass shattered to bits on top of the drain piece. My advice to you, as always, if you truly love it, do not put it in the dishwasher.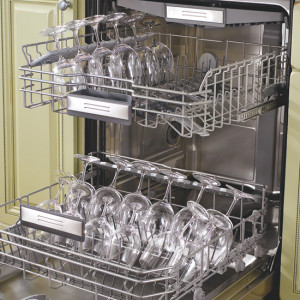 I try to make sure nothing fragile is going to shake around and knock into something else when I'm loading the dishwasher, so that should help. Something shaped like a martini glass is probably not going to hold up well in a dishwasher, and if your wine or champagne glasses actually fit in yours, I would definitely recommend cheap, thick stemware. Heat is brutal on glass and the temperature extremes your dishwasher can reach will slowly make your glassware more and more brittle. It's the same reason why your glass coffee pot can one day shatter to bits on you if you barely tap it on the edge of your mug by accident.
I have seen fancier dishwashers that actually have a glassware setting, so perhaps those work a little better with them, but one of my favorite quotes again is, "It's called a dishwasher for a reason. It's not a pots and pans washer. It's not a glassware washer."
The problem with hand-washing glassware, particularly specialty stemware, can be getting inside and washing it properly. There are specialty cleaning brushes for stemware as well as glass decanters available.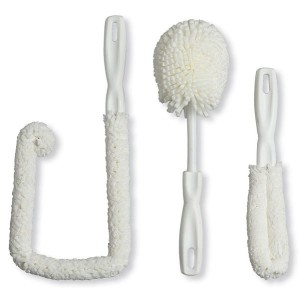 Wine glasses should be rinsed immediately and left overnight with a little splash of warm water inside of them. A lot of wine glass representatives will tell you that you don't really even need to wash your stemware with warm, soapy water every single time if you're doing that.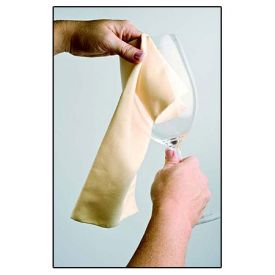 As for towel-drying, most of us are familiar with the lovely little flecks of fuzz that most towels would leave behind. Air-drying is the best method, although this can still sometimes leave unsightly watermarks. A microfiber cleaning cloth is recommended for keeping your stemware sparkling clear!